I first saw this recipe in Shape magazine and have modified it.  They're a little "sticky" so not so easy to eat on the go, but they're nutrient packed and yummy!
INGREDIENTS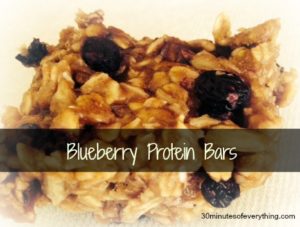 1 cup wild blueberries
1 cup natural peanut butter
1 cup local honey
2 cups organic instant rolled oats
1/2 cup organic shredded coconut
1 cup raw sunflower seeds
1/3 cup chocolate protein powder
DIRECTIONS:
Melt the honey and peanut butter together in a saucepan on low heat. Stir until melted together. In the mean time, place the protein powder, sunflower seeds, coconut, oatmeal, and blueberries in a large mixing bowl. When the honey and peanut butter is melted together, pour the mixture into the dry ingredients. Mix everything up until all ingredients are wet.  Scoop out the mixture into a 8″x8″ glass square container.  Mush it all together. Put the glass jar with mixture into the freezer for one hour. After one hour, remove from the freezer and cut into 16 pieces. Store in the refrigerator for up to a week.  They're a little sweet so you can always cut the honey if you'd like.
Nutritional Info: Calories 256, Fat 13.4g (44%), Carbs 30g (44%), Protein 7.6g (11%)