No, not the plane that flies overhead, but planes of MOTION. The body is broken down into sections of movement by imaginary lines. Yes, imaginary because we can't see them, but totally real because we can use all three! Bear with me as I explain what they are and why they're important.
The three planes of possible movement by the human body are the frontal, sagittal, and transverse planes. These imaginary planes divide the body into three different sections of movement. (see the picture below).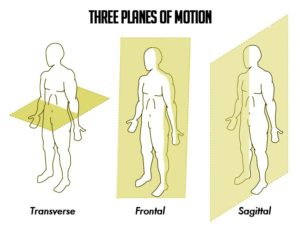 These planes of movement "govern" how the body can move. As humans, it's important that we can move in all three planes! The planes of movement can be described as follows:
TRANSVERSE = divides the body in top/bottom. Movements in this plane are rotational. For example, standing med ball twist, torso twist with bands, or wipers.
FRONTAL = divides the body into front/back. Movements in this plane go side to side. For example, side raises, side lunges, or jumping jacks.
SAGITTAL = divides the body into right/left. Movements in this plane move forward and backward. For example, bicep curl, dead lift, push ups, chest press, or reverse lunge.
Big deal. Who cares about the planes of movement, right? Kinda sorta – no. They're important to know because we need to train all three of them. Our body moves in so many different directions that strength in all three planes makes us more functional and daily life EASIER. Easier is good! Let me briefly explain how we can take a simple exercise and challenge it through all three planes.
One plane of motion is a reverse lunge holding a medicine ball. (Sagittal plane)
Two planes of motion are the reverse lunge then twist the medicine ball towards your hip. (Sagittal and transverse planes)
Three planes of motion are the reverse lunge twist with the medicine ball then stand up and press the medicine ball overhead. (Sagittal, transverse, and frontal planes)
In other words, we made the exercise more challenging by moving your body through all three planes of motion. In real life this could be synonymous with pulling clothes out of the dryer (sagittal), twisting to put them on the counter (transverse) then reaching them overhead to stack them in a closet (frontal). Now do you get it? You use these planes of motion every day! You need strength in all three – every day, for everything you do. This is why I start with basic exercises (one plane of motion) then progress them to more complex (2-3 planes of motion) as you develop the appropriate amount of strength and proper form. The next time you move your body, think about which plane you are moving in. 🙂