Growing up in rural upstate NY, food was quite basic. There wasn't much diversity or ethnic cuisine. My idea of soup was what came out of a can! Oh my how things have changed!! Now I make my own soups! This is a simple and hearty lentil soup recipe for you to try! Enjoy!!
INGREDIENTS
1 cup red lentils (because they mush up)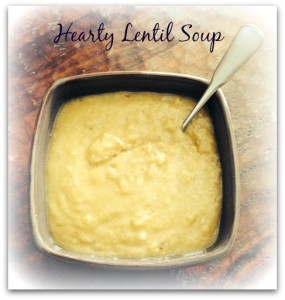 1 whole sweet onion chopped up
1 cup spring water
1 cup organic chicken/vegetable broth
sea salt & Aleppo pepper flakes to taste
DIRECTIONS:
Combine all ingredients in a big pot. Let simmer for a few hours until it all gets mushy.  (This may take 2-3 hours). The onions should start to dissolve. When it's all mushy, serve up a bowl and eat!
If you'd like to make this in a crock pot, put everything into the crock pot on low for 4-6 hours. You might have to add an extra 1/2 cup of water/broth to the mix – or you can check it periodically.  Cover it then go about your day. Your soup will be ready when you are!