Have you been contemplating starting an exercise program? Just not sure where or how to begin? We've done all the thinking and planning for you! This is THE PROGRAM for you!
Whether you're a seasoned exerciser, athlete in training, or a total newbie to exercise, 30 Minutes of Everything® can help YOU achieve YOUR goals. Our 8-week periodized program is designed to challenge your current fitness level and gently push you past your comfort zone.
Also on this page…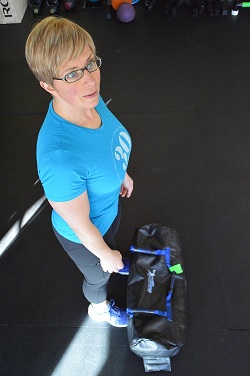 To learn more about Tanya, view her Bio on her Prescriptive Health website »

We offer three levels of classes; beginner, intermediate and advanced. Our Beginner class is for the individual who wants to move at a slower pace. We do the same exercises as in the Intermediate classes, but with modifications; rest intervals are longer, exercises are grouped together based on standing/sitting movements, and there are less plyometrics (jumping). Don't let the name fool you. It may be a "Beginner" class, but in no sense of the word does that mean your workout will be easy! If you're looking for a slower paced class, this is the one for you!
Our Intermediate level class is the one most attended. It's more difficult than the Beginner, but not as insane as the Advanced class. Each day is designed to challenge you, but you always have the option to modify an exercise or reduce the intensity. The class progresses through strength training, agility, plyometrics, and various body weight combinations at various work: rest intervals. It's an all-around whole body workout that WILL challenge you, while you're having fun!
The Advanced level is the toughest class we offer! There are no excuses in the advanced class. The only option is to give MORE than 100% EVERY class! It'll make you sweat, it'll push you way beyond your comfort level, it'll challenge you beyond your wildest dreams, and it will be insanely fun! Because this is such a grueling class, prior participation in an Intermediate level class is required as well as passing a performance test.
Are you ready? Let's do this together! Join us for 8-weeks as we strive to change your daily routine!
30 Minutes of Everything Video
Frequently Asked Questions
Is this class hard?
It's as hard as you want it to be! It is challenging, but you can always adjust the intensity to how you're feeling that day. I can tell you that it's never going to be "easy".  The program is designed to improve your fitness, "easy" doesn't do that.
Is everyone really fit and in shape?
We offer three levels of difficulty with a variety of fitness levels. The beauty of the class is that everyone works at their own pace, at their own fitness level so the class progresses together; no one is left behind.
What do I wear?
Wear regular loose fitting workout clothes. This is a "come as you are" studio – it's not a fashion show. Bring a separate pair of sneakers with you so you can put them on once you are inside the studio.  You will also need a water bottle.
Do I need to fill out any forms?
Yes, before you can participate in the 8-week 30 Minutes of Everything® program, you must fill out a Health History Questionnaire, Liability Waiver, and Policies form. They are available here.
Can I make up a day if I miss one?
Yes, you can make up a class Monday through Friday in another class that is not full. You can check availability on the app.
Will you come to my home for private training sessions?
We don't travel to homes.  We do all training in the studio located at 5125 Route 209 in Accord.
If I decide to do the 8-week program, how do I register?
Choose which days and times you'd like to commit to for the 8 weeks. Then, print and complete the three registration forms and return them with your payment (to Prescriptive Health, LLC, PO Box 78, Accord, NY 12404) prior to the end of the current session.